Balanita's MasterMind Ai
Take your CEO game to the next level.
Supercharge your brand and communication.
Elevate your LinkedIn game with our AI-powered tool.
Craft persuasive emails, stand out with captivating posts, dominate social media, deliver impactful presentations, and establish thought leadership.
Request a Free Trial & Try it now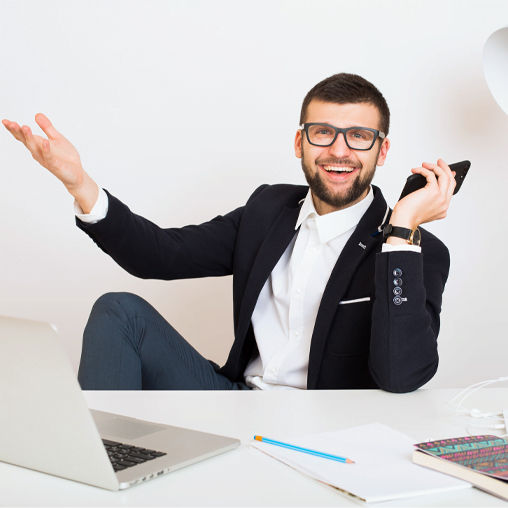 Balanita's MasterMind
The Ultimate AI-Powered CEO's Assistant
Welcome to Balanita's MasterMind, the groundbreaking AI CEO's Assistant tool designed to revolutionize your business communication. With MasterMind, CEOs and professionals can harness the power of artificial intelligence to craft compelling emails, LinkedIn posts, social media content, meeting points, and more. Stand out from the crowd and captivate your audience with our friendly, professional, and informative writing tones. Maximize your online presence, engage with your audience, and save valuable time with MasterMind's AI-generated content that perfectly aligns with your unique style and goals. Experience the benefits of this innovative app and unlock your business's true potential today.
Unleash Your Potential
Experience the Power of Our AI-Powered Writing Tool
Elevate your business emails
Our AI-powered tool crafts tailored drafts in various tones, saving CEOs valuable time while ensuring effective communication.
Make every meeting count
Offers concise talking points, insightful summaries, and enhanced articulation for CEOs. Be well-prepared, communicate with clarity, and drive your vision forward.
Boost your LinkedIn presence
creates attention-grabbing posts that showcase your expertise, engage your network, and amplify your professional brand.
Craft your Brand
Craft mission and vision statements effortlessly, conveying your values and goals with clarity and impact. Boost your brand's identity and save time with our AI-powered tool.
Maximize your social media impact effortlessly
Crafts engaging posts that align with your style and preferences, freeing up time for CEOs to focus on their core responsibilities.
Be a respectful Author
Streamline publishing with ease. Generate outlines, chapters, and complete content effortlessly. Save time, captivate your audience, and establish thought leadership.
Discover the Cutting-Edge Features
of CEO's AI-Assist Writing Tool
Website features for eCommerce, designed for success list of things that are powerful and engaging for your website. These are the most available eCommerce website features on our higher plan. Starter plans have a few of them. But you can enable these features by contacting us and enable features separately anytime.
Content for Meetings, Articles & Blogs
01
Blog Ideas
Article/blog ideas that you can use to generate more traffic, leads, and sales for your business.
02
Article Writer
Create a fully complete high quality article from a title and outline text.
03
Talking Points
Write short, simple and informative points for the subheadings of your meetings
01
Facebook Ads
Facebook ad copies that make your ads truly stand out.
02
Google Ads
Creating ads with unique and appealing titles & text that entice people to click on your ad and purchase from your site.
03
LinkedIn Ads
Attention-grabbing, click-inducing, and high-converting ad headlines and descriptions for Linkedin.
01
Emails
Professional-looking emails that help you engage leads and customers.
02
Startup Name Generator
Generate cool, creative, and catchy names for your startup in seconds.
03
Company Bios
Short and sweet company bio, mission & vision statements that will help you connect with your target audience.
01
Product Name Generator
Create creative product names from examples words.
02
Product Descriptions
Authentic product descriptions that will compel, inspire, and influence.
01
Social Media Post (Personal)
Write a social media post for yourself to be published on any platform.
02
Social Media Post (Business)
Write a post for your business to be published on any social media platform.
03
Instagram Captions
Captions that turn your images into attention-grabbing Instagram posts.
04
Instagram Hashtags
Trending and highly relevant hashtags to help you get more followers and engagement.
05
LinkedIn Posts
Inspiring LinkedIn posts that will help you build trust and authority in your industry.
06
TikTok Video Scripts
Video scripts that are ready to shoot and will make you go viral.
01
SEO Meta Tags (Blog Post)
A set of optimized meta title and meta description tags that will boost your search rankings for your blog.
02
SEO Meta Tags (Homepage)
A set of optimized meta title and meta description tags that will boost your search rankings for your home page.
03
SEO Meta Tags (Product Page)
A set of optimized meta title and meta description tags that will boost your search rankings for your product page.
01
Tone Changer
Change the tone of your writing to match your audience and copy.
02
FAQs Writer
Generate frequently asked questions based on your product description.
03
Testimonials / Reviews
Add social proof to your website by generating user testimonials.
Balanita's MasterMind CEO's Assistant
Get the best deal!
30 Days Money Back Guarantee
Choose the best CEO's Assistant plan for you.
Choose the right plan to get the most valuable reputation as a CEO.
CEO's Assist
* Coming Soon

Meeting Talking Points
Ai Paragraph Writer
Ai Email Writer
Ai Branding Tools
Ai Product Descriptions
Ai Tweets Writer
Ai LinkedIn Post Writer
Ai FAQ Writer
Ai Review Writer
CEO's Assist Pro
* Coming Soon

All CEO's Assist Points
Blog & Ideas Writer
Content Rephrase
Facebook Ads Writer
Google Ads Writer
LinkedIn Ads Writer
Text Extender
Quora Answer Writer
Summery Writer
Bullet Point Answers
Instagram Captions & Hashtags
YouTube Descriptions
TikTok Video Script Writer
Content Tone Changer
Submit for a Free Trial
Take your CEO game to the next level
Get started with our AI-powered plan today and unlock your full potential. Accelerate productivity, enhance communication, and make confident decisions. Join now and revolutionize your leadership journey.
Fill out the form below to get a Demo & a Free Trial!
Can I customize the AI-generated content to match my personal style?
Absolutely! While the AI tool provides suggested content, you have complete control to review, edit, and customize it to align with your personal style, brand voice, and preferences. It serves as a valuable writing assistant, allowing you to add your unique touch and expertise.
What type of support is available if I need assistance?
We have a dedicated support team available to assist you with any questions, concerns, or technical issues you may encounter. You can reach out to us via email, phone, or our online support portal, and we'll be glad to assist you promptly.
What pricing plans are available for the AI writing tool?
We offer flexible pricing plans tailored to meet the diverse needs of CEOs and businesses. Please visit our pricing page or contact our sales team to explore the options and find the plan that suits your requirements.
Can I upgrade my plan if I need more features or resources?
Absolutely! We understand that your needs may evolve over time. Upgrading your plan is hassle-free. Simply contact our customer support team or access your account settings to explore available upgrade options. We'll be happy to help you find the plan that best suits your growing requirements.
Can I switch plans during my subscription period?
Certainly! We offer flexibility in switching plans to accommodate your changing needs. You can upgrade or downgrade your plan during your subscription period. Feel free to reach out to our support team or access your account settings to make the necessary changes.
Is my content secure and private?
Yes, we prioritize the security and privacy of your content. All data and information provided to our AI tool are treated with strict confidentiality. We implement robust security measures to protect your data and ensure compliance with industry standards.
Are there any limitations or restrictions on the usage of the AI tool?
While our AI tool is highly advanced and capable, it is important to note that it is meant to assist and augment human creativity, not replace it. It is recommended to review and validate the generated content to ensure it aligns with your specific requirements and objectives.
What are the available payment options?
We offer convenient payment options to ensure a seamless experience. You can pay for our services using major credit cards, debit cards, or electronic payment methods. We also support secure online payment gateways to protect your financial information.
Is there a contract or long-term commitment?
We offer flexible subscription plans without any long-term commitment or contracts. You can choose a monthly or annual plan based on your preferences. Our aim is to provide a service that caters to your needs and offers the flexibility to adapt as your business evolves.
Can I cancel my subscription at any time?
Yes, you can cancel your subscription at any time. We believe in providing a transparent and hassle-free experience. If you decide to cancel, simply reach out to our support team or follow the cancellation process outlined in your account settings.
Take your CEO game to the next level.